Description
This pendant is inspired by Stefan Salvatore and his love for Elena Gilbert and doppelgänger  Katherine Pierce from hit television show, The Vampire Diaries. This pendant features vampire fangs, a diary, a cheerleader, a cameo, the letter SS, and whiskey bottle charms with green accent beads wire wrapped to a large key charm.
The Vampire Diaries Inspiration: Steffan Salvatore –  Elena and Doppelgänger Katerina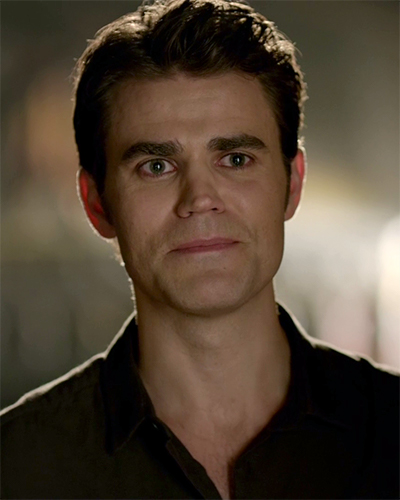 The lives, loves, dangers and disasters in the town, Mystic Falls, Virginia. Creatures of unspeakable horror lurk beneath this town as a teenage girl is suddenly torn between two vampire brothers.
Creators: Julie Plec, Kevin Williamson [Cite 1]
Stefan Salvatore was one of the two main male protagonists of The Vampire Diaries. Stefanwas a 171-year-old cured vampire and the distant descendant and doppelgänger of Silas. Stefan was born and raised in the supernatural town of Mystic Falls, Virginia and came of age during the time of the Civil War. [Cite 2]
Katherine Pierce (born Katerina Petrova) is a vampire and former lover of Damon and Stefan Salvatore. She is first shown in recurring flashbacks, depicting her physically romantic relationship with the Salvatore brothers, eventually turning them, but was captured by the townspeople of Mystic Falls to be destroyed. [Cite 2]
Series Cast
Paul Wesley
 Stefan Salvatore / …171 episodes, 2009-2017 
Ian Somerhalder
 Damon Salvatore171 episodes, 2009-2017 
Kat Graham
Bonnie Bennett171 episodes, 2009-2017 
Candice King
 Caroline Forbes171 episodes, 2009-2017 
Zach Roerig
 Matt Donovan / …171 episodes, 2009-2017 
Michael Trevino
 Tyler Lockwood144 episodes, 2009-2017 
Nina Dobrev
 Elena Gilbert / …141 episodes, 2009-2017 
Steven R. McQueen
 Jeremy Gilbert134 episodes, 2009-2017 
Matthew Davis
 Alaric Saltzman123 episodes, 2009-2017 
Michael Malarkey
 Lorenzo 'Enzo' St. John72 episodes, 2013-2017 
Joseph Morgan
 Klaus Mikaelson51 episodes, 2011-2016 
Marguerite MacIntyre
 Sheriff Liz Forbes50 episodes, 2009-2017 
Sara Canning
 Jenna Sommers46 episodes, 2009-2017 
Claire Holt
 Rebekah Mikaelson38 episodes, 2011-2014 
Susan Walters
 Carol Lockwood34 episodes, 2009-2013 
Daniel Gillies
 Elijah Mikaelson
See full cast & crew » (information copied and paraphrased from cite 1. IMDB.com cite 2. fandom.com)
Details
Vampire Diaries Inspired Stefan Salvatore and Elena Doppelgänger Key Pendant
Included with pendant – a ball chain necklace (you can customize your pendant as a decoration, a rear-view mirror ornament, or whatever your imagination can devise with add-on options.)
Assembled in the USA of domestic and imported components.
Content varies depending on final customization but items could include zinc alloy, silver, gold, crystal, leather and suede, natural and artificial beads, and other metallic or synthetic items.
All necklaces are one of a kind and made by hand. Some may be similar but no two key charms are exactly the same.
Although the keys are themed, each person is unique and will interpret the charm according to their own liking.
Designed by Sarah Allison.
WARNING!!!!! Will not unlock any demonic portals…at least we're pretty sure. Demon tested and carpenter approved!
Custom Orders
Love the jewelry but prefer a unique design of your very own? Custom orders may also be placed by emailing Sarah. She will be happy to work directly with you to find just the right elements to make a special design with you in mind!
Shipping
Choose shipping options during check-out.
Disclaimers
WARNING: This item is not intended for children 14 years old and under.
CHOKING HAZARD: Small parts. Keep away from small children.
Wholesale Pricing
Contact us if you need 10 or more or any item. Wholesale pricing is available.
Social Media
Connect with Sarah Allison and 1.Of.A.Kind.Mind on social media and stay up to date by subscribing to the blog.
1.Of.A.Kind.Mind Jewelry
1.Of.A.Kind.Mind jewelry is unique and made with positive intent. Find striking, handmade pieces of art that highlight natural elements or your favorite fandom! It's time to wear jewelry that is one of a kind, just like you!
Our goal is to make the process easy and fun! Choose charms, colors, and materials to create a necklace, bracelet, earrings, keychain, or a decoration. You can choose charms inspired by your favorite fandom too!
Sarah Allison
Sarah Allison would love to work with you to design the perfect custom piece. You will work together to discuss favorite shows, characters, colors, metals, and lengths. You will design with YOU in mind!
Sarah is available for special event planning, custom graphic design, and social media services. Additionally, she can do DoTerra essential oil consultations. Email Sarah for more details!
Don't forget to click like, share, and leave a comment on our products. Please come back and leave a review on any products you purchase.